GROUP CLASSES/EVENTS SPECIAL EVENTS

Sweep Your Brain

MIND & LIFESTYLE DETOX LEARNING SERIES
6-Week On-Campus & Online Course

Date: June 8TH 2023
Time: 7PM CST THURSDAYS
Location: Irving. TX
Registration: CLOSED

Course Investment $299

We are going to peel the scriptures from a Hebraic perspective to
explore the kingdom principles that will SWEEP and DETOX your
conscious and unconscious mind to redirect your thinking into the
productive seed from which you were created to excel in life as a
their of Adonai through Yeshua HaMachiach(Jesus Christ)!
You have to be willing to implement the teaching to be part of this
awesome revelatory class!
CLICK LINK BELOW TO SEE A CLASS SNIPPET!
https://www.facebook.com/100004868888378/videos/

Discover The Devine Creation In You

To truly reach who you are created to be you must be intentional.
Learn to grow and develop to become person you were created
to be.
Date: July 20th - 21st, 2022
Registration: CLOSED
Time: 7:00 PM CST NIGHTLY

Location: Online
Instructor: Dr. Khannah Josué
In this 2-Day teaching series you will learn the following:

Who you really are under all the "dust of life"

Principles of Creation & Laws of Thinking

How can you stop living at the edge of just enough

How to take revelation to transformation

And more ...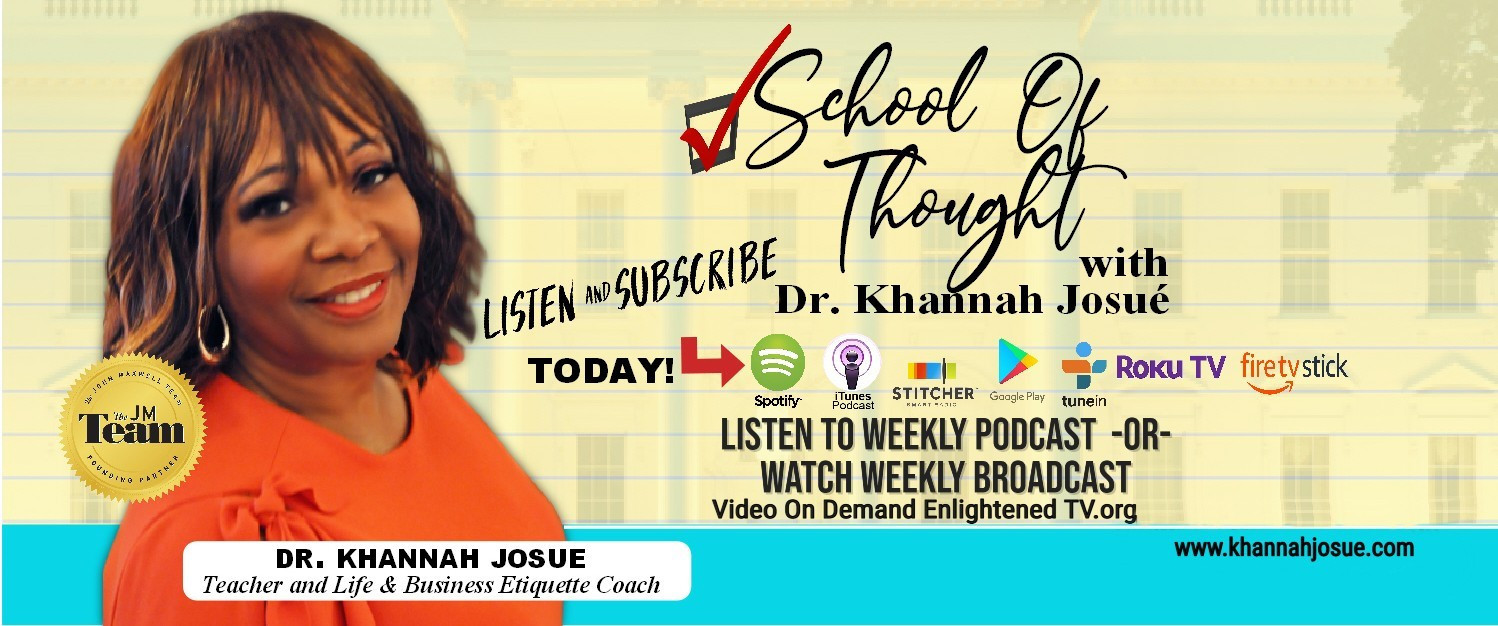 Stay connected for current and upcoming events...
COMPLETE THE FORM TO REGISTER

LUNCH & LEARN

Date: Saturday, July 29th
Time: 10:30am - 2: 30pm
Course Facilitator: Khannah Josué,
Loan Originator NMLS#181240
This training is an opportunity for interested or newly licensed persons to be emersed into necessary knowledge to be effective as a Mortgage Loan Officer.
Training Session Includes:
* Foundational teaching of a Loan Officer
* Discount on Loan Officer 23hr classes and State
* Person teaching on Mortgage software
* Understanding on different loan types and programs
* How to read/understand Credit Reports & Credit Scores
* How to claculate mortgage payments, assets & income
* How to take a complete loan application
* How to review your buyer's document for accuracy & acceptability
* How to understand Mortgage Industry lingo
* and much more
Email questions to: education@sunrisemortgageservices.com
Also visit: sunrisemortgageservices.com
Sunrise Mortgage Services LLC presents:
Loan Officer's University
"How To Become A Mortgage Loan Officer"